Gymnamo
Keeping products affordable for UK rhythmic gymnasts

"HedgeFlows gave me the autonomy I needed. No more calls from FX brokers - your system makes it so easy to follow the rates and book them in advance. The last order has saved me 7% as the Pound collapsed. If it hadn't been for this pre-booking, I'd have had to raise my prices in the shop…"
Inna, founder
The company
Imported high-quality rhythmic gymnastics gear
Gymnamo is the UK's leading specialist shop for rhythmic gymnastics.
The best equipment comes from manufacturers in Japan, Italy, and Spain, while training gear, leotards for competitions and accessories are all made in Europe. Gymnamo makes these products available at affordable prices to consumers in the UK.
The problem
BREXIT CHANGED THE GAME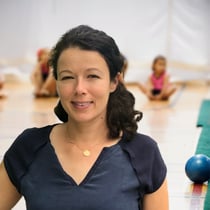 "Because of the new customs rules, it takes me a lot longer to get the goods shipped to the UK. So we had to change how we order from our suppliers - order less frequently but in larger quantities."
The solution
The new approach
Before Brexit, Gymnamo could order small quantities regularly, but due to the new rules, the team had to adapt.
Due to the larger currency amounts involved, longer delays and ongoing volatility over the last few years, Inna had to look for a solution that helps her keep costs and, consequently prices in Pounds Sterling stable.
Booking exchange rates in advance with HedgeFlows solved the problem for Gymnamo. As Inna prepares her purchase orders, she uses HedgeFlows to track exchange rates automatically. When rates reach her target, she can easily book the guaranteed exchange in advance without having to block any of her cash. A few weeks or months later, she uses the booked rate to pay the invoiced amounts for the placed orders.
The impact
Prebooking currencies to keep prices affordable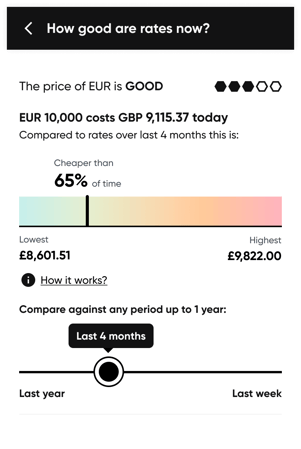 Securing the right exchange rate
"We try to keep prices as affordable as we can. I often know that I'd need to buy Euros and Dollars for my upcoming orders in advance. But I could never fix an exchange rate until I place my order - even if I knew that the rate worked for my margins! And if currencies moved too much I had to wait with my order, hoping to keep my prices and margins where I wanted them to be. It felt like a Catch-22!"
TO SAVE MONEY & keep prices affordable
"HedgeFlows was a game changer - it gave me the autonomy I needed. No more calls from FX brokers - your system makes it so easy to follow the rates and book them in advance. It costs almost nothing to book an exchange rate in advance - and the last order has saved me 7% as the Pound has collapsed. If it were not for this pre-booking I would have had to raise my prices in the shop…"