AP automation for global managed services
Global payables accelerated.
With control & confidence
Delight your clients with modern service and deliver accessible payment solutions with no compromises. Our AP automation excels at flexibility and controls your clients crave for their growth - domestically or overseas.

"integrated very easily with our day to day"

"provides a system like no other"

"makes the harder parts feel easy"
Flexible integrations
Integrate with popular ERP and accounting systems
Support your clients with invoice and payment processing regardless of the accounting or ERP systems that they prefer to use. HedgeFlows takes minutes to connect to most popular cloud-based systems, such as:
Intuitive workflows
Domestic or foreign invoices - the same easy process
Digitising payables is hard if you want to do it well, especially for international invocies. We go beyond "well". We make it as easy as your process for domestic payment. One solution - intuitive, robust and safe.
1. Sync with accounting or ERP system
2. Review and approve invoices to pay
3. Schedule batch payments & any FX purchases
4. Client funds from their bank account(s)
5. We pay, reconcile and send remittance notes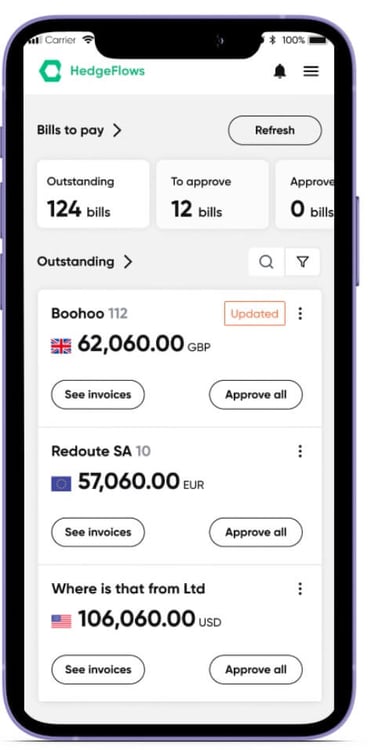 Security and controls
Accelerate beyond borders. With confidence
Payment delays mean supplier disputes and customer dissatisfaction. Keep clients delighted with fast payments without compromising your own governance or taking unnecessary risks. From secure authorisations and access controls to flexible approval options - standardise the approach to payment services that is right for your outsourcing team.
Secure two-factor authentication
Multi-level rule-based approvals
Discover how it works:
Multi-currency payment run in 90 seconds
Is HedgeFlows right for your practice?
Book a consultation with one of our specialists
Best payment options
Save time and money on global payables
Payments and currency conversions remain a sore point for many finance teams. Offer your clients the affordability and transparency they deserve with our market leading FX and payment fees, saving them up to 80% vs banks.
Client accounts in 35 currencies
Complimentary local payments in 30 currencies
Low cost SWIFT fees from £5
Low 0.25% FX conversion fees
Same-day payments in most currencies
Automated remittance emails
Our partnership program
Partnering to support international growth
HedgeFlows is a modular financial automation software designed to help businesses grow internationally. From cash visibility to comprehensive risk management, we offer a range of solutions and work with partnering accounting firms to support their clients.
FREE & SUBSCRIPTION-BASED TIERS

|

TRAINING & RESOURCES

|

DISCOUNTS ON SUBSCRIPTION PACKAGES
GOT A QUESTION? HERE ARE SOME POPULAR ONES:
How is HedgeFlows different to providers like Airwallex/Wise/WorldFirst/TransferMate?
Our speciality is financial automation and helping growing businesses remove the uncertainty and complexity of doing business internationally. For example, your clients can easily prebook FX for future invoices in foreign currencies weeks or months in advance and avoid any FX losses if exchange rates move. Bigger companies can also plan their finances with our multi-currency financial analytics that can connect to your accounting or ERP in minutes. So we also can offer you multicurrency wallets and cross-border collections and payments but we do a lot more.
How is HedgeFlows diferrent to other providers like Telleroo/Crezco/Nook/Comma?
HedgeFlows AP automation is unique in that it offers easy-to-use payment runs in up to 35 currencies at once. It syncs back and forth with Xero or Sage or Quickbooks, and takes care of remittance emails and reconciliations. However, we do a lot more. Most companies consider FX gains & losses a fact of life when they trade internationally but we remove this problem completely. Your clients can easily prebook guaranteed exchange rates for future invoices weeks or months in advance, and avoid any losses if currencies move. We also give you easy tools to understand your currency costs and show you ways to avoid them.
How is HedgeFlows different from FX brokers?
Forward FX purchases or "pre-booking FX" with most FX brokers is very manual and lacks price transparency. Our system is much easier to use and 100% transparent. We also make it easier to manage currency risks and put best practices in place - we have built our system leveraging two decades of experience helping the largest companies in the world manage their currency needs and risks.
How is your system helpful to my practice?
In addition to the aforementioned AP automation, we can quickly tell you if your clients are wasting money on doing business internationally. Our analytics can help you explain their currency gains and losses in an easy-to-understand way and flag opportunities to save money. Last but not least, we can support your clients in managing their currency risks in a fair and transparent way - we offer webinars and training materials both to accountants and their clients on the topic.