Currency
pre-booking
Secure exchange rates today without anything to pay upfront, and use them for future invoices.

"The last order has saved me 7% as the Pound collapsed. If it hadn't been for this pre-booking, I'd have had to raise my prices in the shop…"
INNA, FOUNDER OF GYMNAMO
PLAN AHEAD WITH CERTAINTY
A FRESH APPROACH TO FOREIGN EXCHANGE (FX)
Keep more of your money with conversion fees as low as 0.25% and save time by making all your international payment runs using pre-booked guaranteed exchange rates. No more clunky spreadsheets, no more unwanted calls with brokers; refresh your international trade strategy by automating all your FX needs.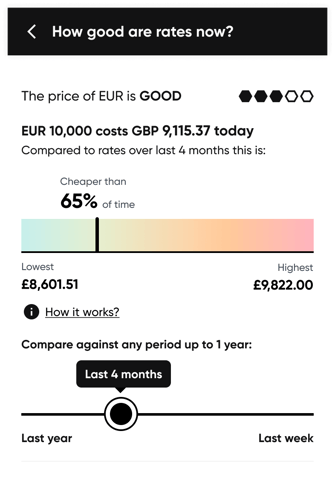 Easy & convenient
No security deposit required
Pre-booking currency with our platform couldn't be easier. You won't need to compromise your current cash to pre-book foreign exchange on our platform. Simply book it and use it for your future payables.

If you book it with our unique FLEX feature and the exchange rates are better when your payments are due, you can convert at a better rate!
Foreign cashflows for small business
HedgeFlows - a smart, simple way to tackle currency costs
Almost every large business proactively manages its international cashflows. Although this usually sounds complicated and costly for smaller businesses, it doesn't need to be. We've reimagined how small finance teams can remove their currency risks without having to become financial wizards.
Without HedgeFlows, very few small businesses can remove currency risks. With us, 70% of them proactively remove unwanted currency effects from their finances.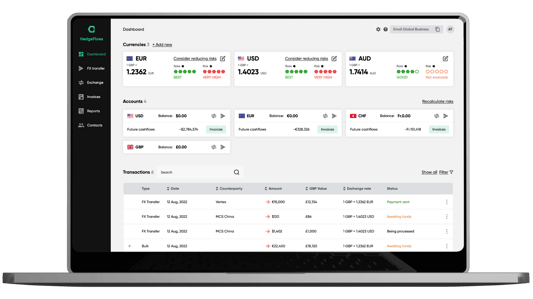 Do you manage currency risks ?
Small businesses with HedgeFlows
Small businesses without HedgeFlows
Flexible pricing plans
Our plans are also easy to use: Try any plan for free. Switch monthly up or down. Cancel any time.
Smart business account
Save money on foreign payments, receive money globally like a local, and secure FX rates in advance with ease and confidence.
---
Payments automation
Streamline multi-currency payment runs and reconciliations and schedule them in advance with or without FX conversions.
---
Cash & Risk Management
Unlock the fresh way to manage risk & treasury and learn best practices by connecting your ERP in minutes.
---
Additional ERP/TMS integration
Online hedging policy toolkit
Monthly review with our experts
Preagreed, transparent FX cost tiers
Unlimited users
Free trial