Get paid globally. No sweat required
Delight your customers by charging them in their preferred currency. Without the quagmire of international banking and the uncertainties of foreign exchange for anyone.

"Really easy and quick to use platform"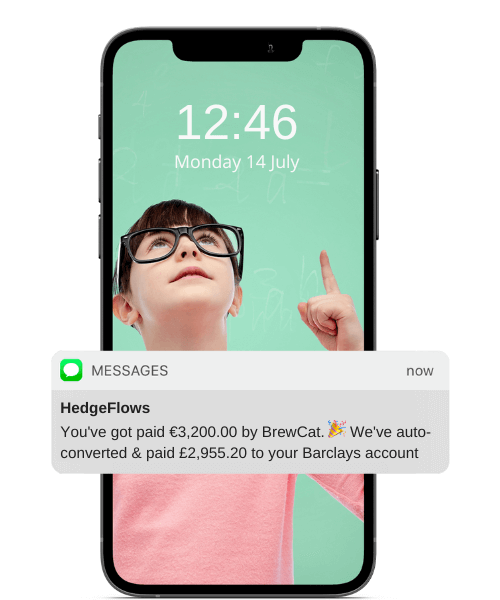 Multi-currency account
Open one account and get paid by clients worldwide
Opening bank accounts around the world can be painful and costly. Save time by opening one HedgeFlows account to collect funds in 30 currencies worldwide - local US Dollar payments via ACH in the US, Euro payments via SEPA in Europe and other currencies via SWIFT payments anywhere in the world.

Simply register your business online - it takes just 15 minutes.
Automated conversions and payouts
"No-sweat" way to sell in 30 currencies and get paid in one
Get more happy customers by quoting and invoicing them in their preferred currency. Use one account to receive transfers from 180 countries in over 30 currencies. Prebook guaranteed exchange rates, and let us send converted funds to your bank account.
Getting started
3 short steps away
From transforming how you manage foreign currency finances:
2
Connect your accounting system
Optionally, connect your accounting system to get the most out of HedgeFlows.
3
REGISTER YOUR BUSINESS
Register your business to start managing foreign finances with HedgeFlows.
Local collections in Euros and Dollars
Fast, free local collections in Euros and US Dollars
Get an extra edge in your largest markets overseas. Let your European and US customers pay with local bank transfers. Without fees and delays of international transfers.
GOT A QUESTION? HERE ARE SOME POPULAR ONES:
How long does it take to open an account?
Registering your business is 100% online and should not take you more than 10-15 minutes. Once we have all the necessary information, we normally process your application in 24-48 hours.
Is it another bank account?
No, HedgeFlows is a payments account that helps businesses transfer or collect funds worldwide in more than 30 currencies. HedgeFlows is not a bank, but we are regulated by the Financial Conduct Authority (FRN: 935021) as a Payment Institution. We use new technologies such as Application Programming Interfaces (APIs) and Open Banking to safely streamline your finances so you can keep most of your funds with your bank.
How do you keep my data and money safe?
Your data is stored securely with world-class providers, and account access is protected behind multiple layers of authentication. We comply with the second Payment Services Directive (PSD2), the standard for payment authentication. We segregate all customer funds from our operational accounts in line with the Payment Services Regulations.
Which currencies do you offer?
You can find the list of currencies HedgeFlows can exchange here